The upcoming R training program starts on February 7, 2021
Admission to this program is now closed.
The Institute of Statistical Research and Training (ISRT), University of Dhaka, is the leading institution for training and research in Applied Statistics in Bangladesh. It was founded in 1964 by the Late National Professor Dr. Qazi Motahar Husain, an eminent scientist, academician and a leading proponent of the statistical sciences in this country.
After successfully conducting two training programs on R, ISRT is now organizing its third (and 1st online) R for Data Analytics program from February 7, 2021. The deadline for registration has been extended to February 4, 2021.
Program Details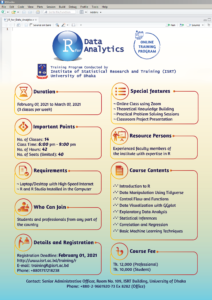 Structure
Three classes per week (Sunday-Tuesday-Thursday)
Number of seats: 40
Special Features
Online Class using Zoom platform
Theoretical Knowledge Building
Practical Problem Solving Sessions
Classroom Project Presentation
Registration Fees
Tk. 12,000/= (Professionals), Tk. 10,000/= (Students up to Masters level)
Current MPhil and PhD students of the University of Dhaka will get a 10% discount on professional's registration fee
To be considered as "student", copy of a valid ID card has to be submitted with the application form
Payment has to be made by Nagad/bKash only. We will appreciate it if you add the cash out charge with the registration fees. Please see below for the details.
Requirements
Participants should have a background in science/biological science/social science/commerce/medical science/engineering and some knowledge of computer fundamentals
Laptop/desktop computer connected with high-speed internet
Participants must attend a minimum of 9 classes out of a total of 14 classes to obtain a certificate
Steps for Registration
Step 1: Send the registration fee through Nagad/bKash to +8801777837643. We will appreciate it if you add the cash out charge with the registration fees. Note that we prefer sending money by Nagad. If possible, put "your name- R" in the reference while sending the money. Please call this number for confirmation of payment receipt.
Step 2: Download and fill-up the following 3 documents

Registration form  (You MUST now collect the printed lecture materials from ISRT office. The option for having them by post is no longer available.)
and send to mahmud@isrt.ac.bd the completed and signed documents. Also, send the scanned copy of your up-to-date student ID card if you are applying for the student category.
We will send back the money receipt after signing it.
Note that you will start receiving the class routine and other updates from the course coordinator from the end of January 2021. The deadline for registration has been extended to February 4, 2021.
Contact
For admission related information, you are requested to contact the following person within February 4, 2021 from 10:00 am – 4.30 pm (Saturday to Thursday)
Md Mahmudur Rahman, Senior Administrative Officer, ISRT, University of Dhaka. Room No. 109, ISRT Building, Phone: +880-2-9661920- 73 Ex 8282 (Office), Mobile: +8801717218238, Email: mahmud@isrt.ac.bd
What is R?
R is a programming language and free software environment for statistical computing and graphics. The R language is widely used among statisticians and researchers in other fields for data analysis and developing statistical software. R is easily extensible through functions and extensions, and the R community is noted for its active contributions in terms of packages.
Why should you learn R?
R is the lingua franca of data science. To master the three core areas of data science- data manipulation, data visualization, and machine learning- R provides an integrated suite of software facilities.
R is easy to learn and understand, and can be operated from any operating system.
R is a free and open-source software, enabling every user to create specialized packages according to his need.
R is the most popular programming language according to a survey conducted by O' Reilly Media in 2014.
According to the latest rankings by Redmonk, R is placed at 13th, the highest of any statistical programming language.
Ranking by TIOBE indicates a strong year over year rise for R.
R is the tool of choice for data scientists in big companies like Facebook, Google, Microsoft, and also very popular among academicians and researchers.
Why should you choose ISRT to learn R?
ISRT is the pioneer of using R in academics in Bangladesh. Faculty members and students have been using R for more than 20 years.
Most of the faculty members are highly skilled and competent in using R. Many of them have experience of developing a number of R packages.
ISRT has been teaching R to its students since the inception of its bachelor's program in Applied Statistics.
ISRT boasts in producing many graduates having expertise in using R over these years, who are successfully employed in many leading industries across the globe.
What are the learning outcomes of the program?
The training program offers comprehensive content designed for researchers, educators and students of diverse backgrounds who have limited knowledge in statistical data analyses, but are enthusiastic to earn competency in learning the computational science of data using R.
The curriculum of this training has been developed to provide-
basic R programming skills (writing functions, loops, conditions, etc)
feel more familiar with the R interface and language
skills to handle any form of data
basic statistical knowledge required for analyzing data and creating lucrative graphs
perform all conventional statistical models and analysis tests
hands-on experience in solving problems related to real-life data
Certificates
A certificate of participation shall be provided to the trainee who will complete the training course successfully.
Cancellations
You can cancel your booking up to five working days before the registration deadline for a full refund, but please give us a notice as early as possible. Places cancelled or changed after this point will not be eligible for a refund. Please send all cancellation requests to mmansur@isrt.ac.bd.
Coordination Team
Dr. Mohaimen Mansur
Mr. Md. Mynul Islam
Mrs. Rownak Jahan Tamanna