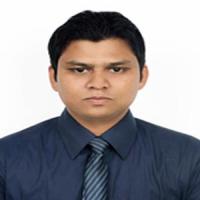 Md. Shaddam Hossain Bagmar
Assistant Professor
Office:
On study leave
Phone:
Email:
shbagmar@isrt.ac.bd
Research Interests
Design of Experiments, Stochastic Process, Public Health, Time Series Modeling, Multivariate Data Analysis
Publications
Bagmar, S. H., and Khudri, M (2015). Tracking Changes and Identifying Determinants of Child Malnutrition Status over the Past Decade in Bangladesh. Pakistan Journal of Nutrition, 14 (12): 964-971, 2015.
Husain M. M., and Bagmar, S. H., (2015). Modeling Under-dispersed Count Data Using Generalized Poisson Regression Approach. Global Journal of Quantitative Sciences, 2 (4): 22-29, 2015.
Bagmar, S. H., Ahmed, S., and Deepty, S. T. (2014). Comparative Analysis of Revenue and Expenditure of Bangladesh Railway and the Future Trends. Journal of Finance and Banking, University of Dhaka, 12 (1 & 2): 45-61, 2014.
Research Students
Thesis
Farabi Raihan Shuvo (Batch-16), Comparing Different Optimal Criteria in Search of
Optimal Block Designs, 2014.
Project
2014
Sunanda Das, Batch-16 (MS), Economic Growth Response to Monetary and Fiscal
Policies: Evidence From Bangladesh Economy, 2014
Md Mahamudul Hasan, Batch-17 (4th Year), Impact of Housing Enviornment on
Poverty in Bangladesh, 2014
Jannatul Ferdaush, Batch-17 (4th Year), Malnutrition in Bangladesh: Trends and
Determinants, 2014
2015
Shah Md. Amin Ahsan, Batch-17 (MS- Intern), Digitalization of Trade License Delivery in Dhaka South City Corporation (DSCC) area, 2015
Shamima Pervin, Batch-17 (MS- Intern), Simplified Pension Procedure for Primary School Teachers, 2015
MD. Maidul Husain, Batch-18 (4th Year), Modeling Household Fertility Decision with Generalized Poisson Regression, 2015
Dutiswar Paul, Batch-18 (4th Year), Factors Eecting Diabetic Status Considering
Gender Disparity in Bangladesh, 2015