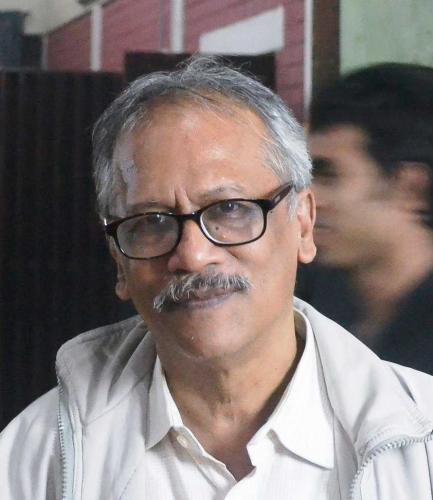 Dr. M. Ataharul Islam
QMH Professor (former)
Dr. M. Ataharul Islam (12 April 1955 – 6 December 2020) was a Bangladeshi great statistician. He was the first Qazi Motahar Husain Professor at ISRT.
Education
1990:  Post-doctoral Fellow, University of Pennsylvania, USA
1984:  Doctor of Philosophy in Biostatistics, University of Hawaii, USA
1979:  Master of Science in Statistics, Dhaka University, Bangladesh
1977:  Bachelor of Science (Honours)  in Statistics, Dhaka University, Bangladesh
Research Interests
Repeated Measures, Statistical Modelling, Longitudinal Data Analysis, Generalized Linear Models, Survival Analysis, Multivariate Analysis
Publications

Books
Islam MA and Shiha AA. Foundations of Biostatistics, Springer, Singapore, 2018, available at https://www.jstatsoft.org/article/view/v063i17
Islam MA and Chowdhury RI. Analysis of Repeated Measures Data. Springer, Singapore, 2017.
Islam MA, Chowdhury RI, Huda S. Markov Models with Covariate Dependence for Repeated Measures. Nova Science, New York, 2009.
Huda, S. and Islam MA (Eds). Collected Works of QM Husain. Nova Science, New York, 2012.
Karim, MR and Islam MA. Reliability and Survival Analysis. Springer, Singapore, 2018 (Forthcoming).
Articles (selected)
Mahmud S and Islam, MA (2019). Predictive ability of covariate dependent Markov models and classification tree for analyzing rainfall data in Bangladesh. Theoretical and Applied Climatology, DOI: 10.1007/s00704-019-02812-0 (forthcoming).
Dey R and Islam M A (2017). A conditional count model for repeated count data and its application to GEE approach. Statistical Papers, 58(2), 485-504.
Islam, MA and Chowdhury, RI : A generalized right truncated bivariate Poisson regression model with applications to health data. PLoS ONE, 12(6), 2017.
Islam MA and Chowdhury RI. A Bivariate Poisson Model with Covariate Dependence. Bulletin of the Calcutta Mathematical Society, 107(1), 11-20, 2015.
Islam MA, Alzaid AA, Chowdhury RI and Sultan K. A Generalized Bivariate Bernoulli Model With Covariate Dependence. Journal of Applied Statistics. 40 (5): 1064-1075, 2013.
Islam MA, Chowdhury RI and Briollais L. A Bivariate Binary Model for Testing Dependence in Outcomes. Bulletin of the Malaysian Mathematical Sciences Society, 35(4), 845-858, 2012.
Khondoker MR and Islam MA. Use of log-log Survival Function in Modeling Time-Covariate Interactions in Cox Regression. Journal of Statistical Planning and Inference, 139 (6):1968-1973, 2009.
Islam MA et al. Estimation and Tests for a Longitudinal Regression Model Based on the Markov Chain. Statistical Methodology, 6(5): 475-489, 2009.
Islam MA, Chowdhury RI and Singh KP. Statistical Methods for Analysis of Repeated Measures on Maternal Morbidity. Australian Journal of Rural Health 14: 154-159, 2006.
Islam MA, Chowdhury RI. A Higher Order Markov Model for Analyzing Covariate Dependence. Applied Mathematical Modelling 30, 477-488, 2006.
Islam MA, Chowdhury RI, Chakroborty N and Bari W. A Multistage Model for Maternal Morbidity during antenatal, delivery and postpartum periods. Statistics in Medicine 23(1): 137-158, 2004.
Islam MA. Multistate Survival Model for Transitions and Reverse Transitions. Journal of the Royal Statistical Society, Part A, 157(3), 441-455, 1994.
Islam MA.A Multistate Approach to the Product-Limit Method. The Statistician, 43(2), 237-245, 1994.
For more publications, you may visit ResearchGate
For more information, you may read my CV