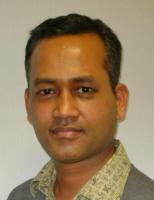 Dr Md Asaduzzaman
Associate Professor
Office:
Phone:
Email:
asad@isrt.ac.bd
Education
BSc (Hon's), MSc (Dhaka), MSc (Chalmers), PhD (Westminster)
Research Interests
Stochastic Operational Research: I am mainly interested in queueing, other stochastic models and mathematical progamming for performance measure, capacity and resource planning and management in health care, telecommunication and other communication networks where overflow may arise.
Publications
Book section
Journal (selected)
See complete list of publications on Google Scholar.
Awards and Honours
First runner-up of "The Doctoral Award" in 2010, ("Most Distinguished Body of Research leading to the Award of a Doctorate in the field of O.R."), Operational Research Society, UK.
Dean's Honour Award 2012 for the "Best paper" in Lecturer/Assistant Professor category, Faculty of Science, University of Dhaka, Bangladesh.
Invited Talks
School of Engineering Seminar Series, 24 September 2014, Staffordshire University, UK.
OR53, Annual Conference of the Operational Research Society, 6-8 September 2011, University of Nottingham, Nottingham, UK.
First International Conference on Theory and Applications of Statistics, 26-28 December 2010, University of Dhaka, Bangladesh.